PacFlange: Maintenance-free Bearings for the Food Processing Industry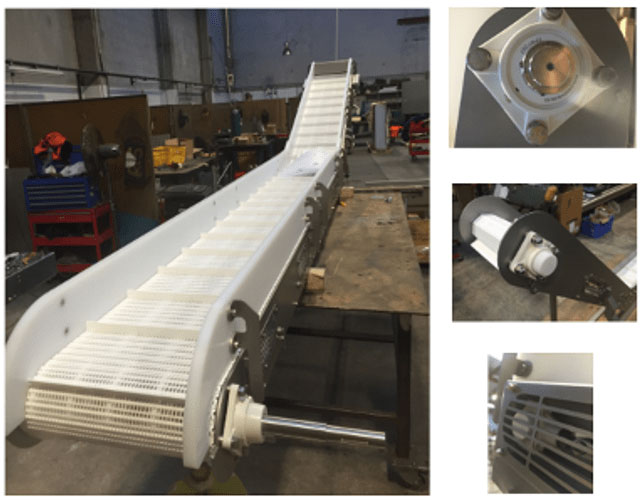 PacFlange: Maintenance-free Bearings for the Food Processing Industry
Millstream Engineering provides engineered solutions, including bearings, from trusted brands worldwide. One of these brands we carry is PacFlange. Their products are specifically designed for the food processing and production industry. PacFlange bearings are designed to replace conventional greased roller bearings and provide a contamination- free and minimal-maintenance solution. Each bearing is made of a marine-grade stainless sleeve that runs inside of a non-metallic spherical plain bearing. The bearing material is an engineered food-grade thermoplastic. It is self-lubricating and has low friction and wear properties, making it especially well-suited for food and water handling environments.
Benefits of PacFlange bearing solutions
They require minimal maintenance: The bearings are self-aligning and help ensure a cleaner operating environment. As grease is unnecessary, your staff does not need to attend to each bearing to apply grease periodically.
They help prevent failures: When applied correctly, the bearings will wear out gradually, thus avoiding unexpected and catastrophic failure.
Planned replacements: The progressive wear behavior means that replacements of PacFlange bearings can be planned well in advance, reducing downtime from unexpected conveyor failures.
Longer wear life: long wear life means extended replacement intervals and higher Mean Time Between Failure (MTBF).
Resistance to chemical and thermal deterioration: The ThorPlas-White bearing insert has excellent resistance to chemicals, heat, corrosion, and abrasion. These bearings can operate in dry conditions from -35℃ to 102℃, and up to 80℃ when submerged in water.
Quick and easy installations.
PacFlange bearings are ideal in these applications:
Areas exposed to frequent washdowns
Wet, clean rooms, or moist environments
Areas with limited access
Abrasive environments
Areas exposed to chemicals
What conveyor types are best for PacFlange bearings?
Slow-moving: the ideal conveyor speed for a PacFlange unit will have a rotating speed at the bearing of 20 to 30 RPM (just like most conveyors). Bearings can be supplied for higher RPM applications if the loads are lower within the working limits of the PacFlange designs.
Modular belts: Modular belts are perfect for PacFlange bearings as they are generally fitted loose between each roller, so bearing loads are reduced.
Wet environment conveyors: PacFlange works best in wet environments and can withstand higher loads in the presence of water due to the added cooling effect. Conveyors regularly washed down with high pressure and chemicals are also ideal since there is no concern about grease wash-out or deterioration.
What PacFlange customers have to say about their bearing solutions
SilverFern Farms, Meat Processing Plant
Hawera, New Zealand
"We installed two trial PacFlange units in July 2015, and after 2-months, they were still performing very well, so we ordered a further 22 PacFlange units to replace our greased rolling element bearings. These grease-free bearings have reduced our maintenance expenditure for the plant, saving money on grease and time spent. After two years in service, they are still in operation (and maintenance-free!), where the greased roller bearings had to be replaced annually. The roller bearings also required weekly greasing. Our plant operates 16hrs/day – 5 days/week with daily chemical wash downs, and these PacFlange units have handled these tough conditions superbly."  – Dan Mapp, Engineering Supervisor, 2017.
Alliance Group, Meat Processor
Levin, New Zealand
Their previous bearings required frequent re-greasing to maintain reliable operation. In 2017, they replaced their bearings with PacFlange. After 1.5 years of operation, they had the following comment:
"We installed these in our dip tank, which runs a conveyor through showered 82°C hot water. Although the PacFlange units are not in direct contact with the hot water, so far so good, no sign of failure, so I am impressed with the product."  – Shaun Morath, Maintenance Manager
Whether you're just starting out in the food industry or are an already established business, Millstream Engineering can support you by providing food-grade approved bearings and solutions to ensure smooth and successful operations.
Contact us at contact@millstreamengineering.com  or call 705.413.0933 to get started.