Hydro Case Study – Upgrading Old Servomotors to Eliminate Grease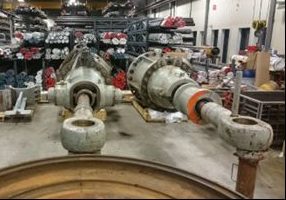 Hydro Case Study – Upgrading Old Servomotors to Eliminate Grease
The Challenge: Bring Old Servomotors Back to "Better Than New" Condition!
In the previous article, we discussed the numerous benefits of self-lubricating bushings for servomotors in hydropower plants. To help illustrate where these self-lubricated bushings can be installed in an existing servomotor when refurbishing an existing power plant, it is important to understand the typical rebuilding process for the servomotors. After the servomotors are taken to a capable workshop, the rebuild starts with disassembly, removing end caps, piston rod, piston, seals, and other internal components. All parts are inspected and cleaned, checking for wear, damage, or corrosion. Based on the inspection, damaged or worn-out components are repaired or replaced, including resurfacing the cylinder barrel, replacing damaged piston rods, and installing new seals and replacing worn-out bronze bushings with new self-lubricated bushings. Once reassembly is completed, the servomotor is tested for proper function, leaks, and correct range of motion. Necessary adjustments are made to optimize performance.
Servomotors for Re-building (32″ bore)
ThorPlas Bushings Replacing Bronze
The Solution: Upgrade With ThorPlas-Blue!
Several Canadian hydro utilities have benefited from this type of complete servomotor rebuild and upgraded to ThorPlas-Blue self-lubricated bushings instead of greased bronze. As a result of this change, they will realize many more years of trouble-free service from the newly upgraded equipment. This rebuilding work is often done as a small, but important, part of major turbine overhaul and life-extension projects. Installing self-lubricated materials for rod end bushings, nose bushings, thrust washers, linear guide bushings, and any other bushing locations during the rebuild can significantly extend the life of the servomotor and improve the performance of the overall hydraulic system by reducing loads on the operating mechanism.
Thordon SXL Thrust Washers
New Rod Ends With ThorPlas-Blue
ThorPlas-Blue is made in Canada, with a proven track record in Hydro applications for over 20 years. ThorPlas-Blue offers a low coefficient of friction, superior wear performance, and minimal maintenance requirements by entirely eliminating the need for periodic greasing and lubrication of the moving connection points.
Do you have challenges with your bearings, shaft seals, or water filtration systems and need a creative, cost-effective solution? Allow Millstream Engineering's team of specialists to lead your group to a successful, economical solution. Contact us today.