Thordon: Elastomer Champions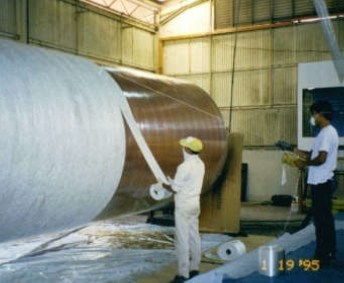 Thermoset Laminates, commonly known as Phenolic Laminates, are one of the most commonly used non-metallic bearing materials in engineering applications. These rigid materials are typically made by applying heat and pressure to fiber layers impregnated with thermosetting resins. While Phenolic Laminates have desirable characteristics such as  low moisture absorption and high temperature resistance, their downfalls place them firmly in the "Challenger" position, next to Thordon's superior first-place ranking as the "Champion" of Elastomers.
Thordon elastomers (such as SXL & XL) have excellent impact resistance due to their elastomeric nature, which eliminates the risk of cracking during installation or due to misalignment or vibration while installed. Thordon Elastomers have a higher abrasion resistance and lower coefficient of frication, therefore a longer wear life, as opposed to the brittle, prone-to-chipping parts made from thermoset laminates, which usually have a much lower impact resistance. Subsequently, repairing these parts results in expensive downtime and increased maintenance costs.  Importantly, in contrast to the irritating dust produced from machining thermoset laminates, Thordon's dust-free elastomers pose no health hazards and installation is easy and fast, as they can be shrunk by freezing them using dry ice or liquid nitrogen, and then easily installed in any housing. Manufacturing large custom Thordon Elastomeric bearings quickly is much easier than that of Phenolic laminates, which makes them more readily available.
Thordon's Elastomeric "Champion" at Work
The Expensive Problem: An abrasive environment in a wastewater treatment plant was causing premature wear on the phenolic laminate shaft bearings of the large Flocculator paddle wheels that slowly mixed the wastewater. 
Thordon's Efficient, Cost-Effective Wastewater Treatment Solution: Long-wearing Thordon SXL was used to replace the inefficient phenolic laminate bearings. SXL's low coefficient of friction suited the slow speed shaft operating conditions. With its excellent resistance to abrasion, Thordon SXL performs well in this wet environment.  As a result of transitioning from thermoset laminates to Thordon's SXL elastomeric material, there have been no issues since the 2001 installation. 
Are you considering transitioning from common engineering plastics to the superior, cost-effective Thordon Elastomers? Contact Millstream Engineering's team of specialists to lead your group to a successful, economical solution.
Millstream Engineering
705-413-0933