Putting Thordon Bearings to Work in Food Processing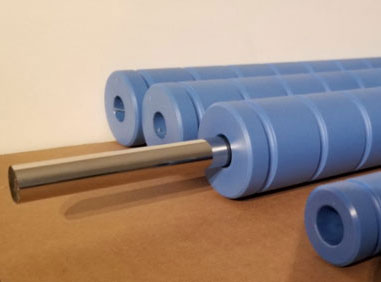 Putting Thordon Bearings to Work in Food Processing
What do bacon and sugar cane have in common? For optimal production, each of these mass-produced foods requires an efficient, clean, functionally reliable conveyor system.  The Material Handling industry continually looks to Thordon Bearings and the company's wide range of material grades that can be customized for a variety of bearing applications.
Case Study Number 1: Makin' Bacon
The Expensive Problem: A food processing facility reached out to Millstream Engineering about an issue it was having with a packaging line for bacon. The bacon was misaligned or fell off before reaching the packing station due to the differing speeds of the silicone belting used to convey it. Each silicone belt had its own roller and because each roller moved at a different speed, the belt speeds were not consistent.
Thordon's Efficient, Cost-Effective Material Handling Solution: Single long rollers made of Thordon's Thorplas-Blue material were installed in place of the several rollers that were previously present on each axle. The rollers' grooves were precisely machined to correspond to the silicone belts' shape.
Thorplas-Blue was chosen because of its low friction and high strength, as well as the advantage that Millstream had stock on hand, and it was easily accessible. Additionally, because Thorplas-Blue could operate free of grease on the stainless-steel axle, there was no need for any extra installation support or housing.
As a result of the Thordon upgrade, the conveyor belting travelled at a constant speed, so the product stayed properly aligned for packaging. This solution saved thousands of dollars in wasted bacon and machine operator time.
Case Study Number 2: Saving Sugar
The Expensive Problem: Wheels in the feeding tables of a sugar cane conveyor system had bronze bushings initially. These bronze bushings lasted a maximum of 15 days because dirt got into the system and caused severe abrasive wear. Constantly replacing these bushings was both costly and time-consuming.
Thordon's Efficient, Cost-Effective Material Handling Solution: Thordon's dependable, long-lasting elastomeric bearing material, SXL, was used to replace the inefficient bronze bushings and achieved a service life of greater than one year. Additional modifications to the sugar cane cleaning process were also introduced to make it more efficient and cost-effective.
Do you have expensive challenges with your bearings and wear pads and need a creative, cost-effective solution? Allow Millstream Engineering's team of specialists to lead your group to a successful, economical solution. Contact us to learn more.