Manufacturing Custom Bearing Solutions for Material Handling Equipment across Canada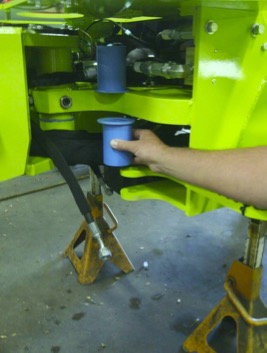 Manufacturing Custom Bearing Solutions for Material Handling Equipment across Canada
Thordon Bearings manufactures custom bearing solutions in a broad spectrum of material grades for a comprehensive range of applications. These durable bearing solutions are designed to replace a variety of plastics in many material handling situations from fishing trawler conveyor belts to trunnion bearings in a forklift.
Thordon Elastomeric Grades
Thordon Elastomeric Bearing Materials are available in several grades—XL, SXL, Composite, and ThorSeal—and are incredibly durable synthetic polymers that exceed most other bearing materials, both metallic and non-metallic. Among their many benefits are long wear life, strong natural resistance to abrasion, a low coefficient of friction, and high impact strength.
Thordon Thermoplastic Grades
Thordon thermoplastic material grades: ThorPlas-Blue and ThorPlas-White (food and drinking water safe) were created by the company particularly for use as high pressure self-lubricating bearings. These materials can withstand a maximum dynamic design pressure of 45 MPa (6527 psi), a low coefficient of friction (typically 0.10-0.17), excellent abrasion resistance and superior performance when compared with bronze, epoxy phenolics, and many other commonly used bearing materials.
Thordon's thermoplastic and elastomeric polymer materials are more advanced than other types of common engineering plastics available and, as a result, the custom bearing manufacturer can create superior bearings for all of your material handling requirements.
Benefits of Synthetic Polymer Bearings: Often utilized in commercial material processing environments, they are stronger mechanically, have premium abrasion resistance, a significantly lower coefficient of friction, higher impact strength, and self-lubricating qualities.
Moreover, Thordon provides a substantially shorter lead time for the raw materials (tubes, sheets, and rods), making these grades more accessible to clients that can machine their own bearings. Considering this, these grades provide a significantly better option to common non-metallic materials like Polyurethane, Rulon, Delrin, Nylatron, Ryertex, UHMWPE, Nycast, and Acetal.
Figure 3 – TYPICAL BEARING ABRASIVE WEAR RATES
Wet third particle abrasion. Shaft Material: carbon steel. Bearing I.D.: 2.5 cm (1 in.). Abrasive slurry mixture: 2% bentonite, 6% sand, 6% clay, 86% water.
Thordon's Bearing Solutions at Work in Food Processing
Manufacturing Custom Bearing Solutions for a New Zealand Fishing Trawler
The Expensive Problem: The conveyor belt and its components were frequently in contact with salt water and other debris. Due to high wear, its worn-out nylon bearings required regular replacement (every three to four weeks) and lubrication (every two weeks). From a time-management and financial viewpoint, this was both expensive and wasteful.
Thordon's Efficient, Cost-Effective Material Handling Solution: Thordon's SXL dependable, long-lasting elastomeric bearing material was used to replace the costly, time-consuming nylon bearings. Every day of the week, the material handling equipment was operated at full capacity. The SXL bearings required no lubrication or maintenance throughout the whole of the 53-day test period, and at the end of it, there was no obvious wear.
On request, ThorPlas-White, a food-grade and drinking water safe material is also available.
Costly, greased nylon bearing
Nylon (Left) and SXL (Right) bearings
Greaseless Thordon SXL bearing
Material Handling Challenges: Trunnion Bearings in a Forklift
The Expensive Problem: Trunnion bearings were originally made of greased brass, but their location made it impossible to lubricate them, which prolonged machine downtime and raised maintenance costs. Nylatron was used by the company to replace bronze bushings, but it failed after six months.
Thordon's Efficient, Cost-Effective Material Handling Solution:  ThorPlas-Blue, an engineered, thermoplastic bearing has replaced the costly bronze/Nylatron bushings. Currently, ThorPlas-Blue is operating on 30 of the company's material handling systems.  Due to ThorPlas-Blue's inherent ability to lubricate itself, there is no longer a need for grease. The amount of time between maintenance has been decreased, and as a result so have the expenditures.
For more information on Thordon's comprehensive line of material handling equipment bearings contact Millstream Engineering's applications experts to help you determine the best solution for your toughest bearing and wear pad challenges.
Millstream Engineering
(705)-413-0933
www.millstreamengineering.com