Hydro Tech Tips – Is There a Better Option Than Babbitt?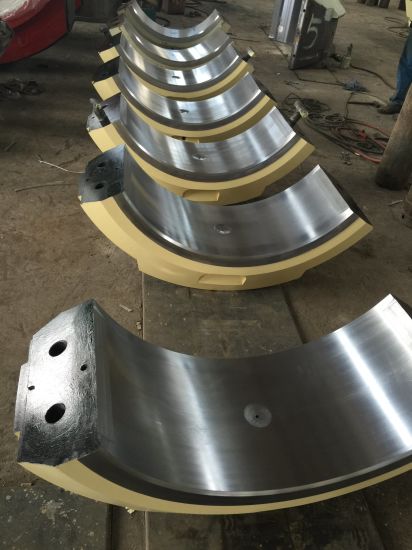 Hydro Tech Tips – Is There a Better Option Than Babbitt?
WHERE ARE THE BABBITT
BEARINGS USED
IN TURBINES?
TYPICAL GREASED BABBITT GUIDE BEARING DESIGN
Babbitt bearings, also known as plain bearings or white metal bearings, are used commonly in hydropower equipment, where they support the high loads and speeds found in the guide bearings and thrust bearings supporting the radial and axial loads of the turbine, shaft, and generator. They're designed to withstand these heavy loads while minimizing friction, and in most cases are running on a thin film of oil to minimize wearing of the thin babbitt layer. The babbitt layer is a softer, low-melting-point alloy that is cast or bonded onto a steel or cast-iron shell, and is typically composed of tin, antimony, and copper.
WHAT IF THE BABBITT BEARING IS UNDERWATER?
GREASED BEARING BELOW SHAFT SEAL
Most modern vertical turbines will either have an oil-lubricated turbine guide bearing above the shaft seal, or a water-lubricated guide bearing positioned below the shaft seal. There are technical advantages to locating the guide bearing below the shaft seal & as close to the runner as possible, so in the 1950s & 1960's some Kaplan and propeller turbines were designed with greased Babbitt bearings. The challenge with this design is that the packing box is located above the bearing, so the bearing is fully submerged in water. The solution at the time was to just keep pumping more grease into the bearing space, which would act to keep out the water and also lubricate the bearing. Unfortunately, what goes in must come out, so most of this grease ended up in the river, and very often the bearing ended up full of water, and without lubrication, the babbitt will quickly fail!
 RETROFIT A WATER – LUBRICATED BEARING!
WATER BEARING RETROFIT CONCEPT
This type of greased Babbitt turbine guide bearing is the perfect place to retrofit a water-lubricated bearing and keep the bearing location exactly as it was designed to be, but with the environmental benefit of eliminating the risk of grease contamination to the river. In most cases, this type of guide bearing can be retrofitted by machining out the babbitt and fitting a new lining of suitable water-lubricated bearing material. The existing packing box may be kept as-is, or could also be upgraded to a radial segmented shaft seal or mechanical seal for improved reliability. A new water supply to the bearing may be required, but can often be taken from the existing generator and hydraulic cooling systems that already existing in the power station.