Hydropower Tech Tips – Sticky Wicket Gates?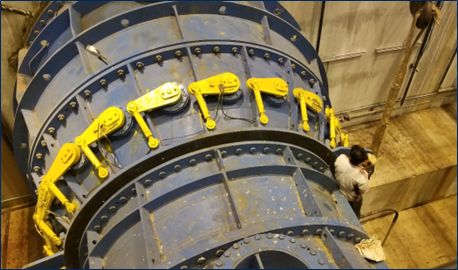 Hydropower Tech Tips – Sticky Wicket Gates?
EDGE LOADING AND WORN BUSHINGS CAN OFTEN CAUSE STICKING OF WICKET GATES

The most common area to investigate first when dealing with sticking wicket gates are the moving parts of the operating mechanism: the operating ring wear pads, linkage bushings, servo rod connections, and the wicket gate bushings. All points contribute to total friction in the system, gradual wearing of the pads and bushings will affect alignment, and eventually misaligned components can become seized or difficult to move. This problem can be made worse if the bushing material has a low tolerance to edge-loading, resulting in potential galling and binding between the gate stem and the upper or lower edges of the bushing.
Broken shear-pins are often the first sign of a developing problem, as they are designed to be the sacrificial component in the operating mechanism – when they break first, it prevents more extensive damage to the levers, linkages, or wicket gates.
Wicket Gate Linkages and Operating Ring
LOOSEN IT UP WITH A BETTER BUSHING!
Using a homogeneous thermoplastic material (having consistent mechanical and material properties throughout the wall thickness) for bushings and wear pads ensures that normal wear of the bushing does not result in major changes in the performance of the operating mechanism.
Edge loading can result from wear of components, from flexing of the wicket gates, or deflection of the operating ring or other support structures as a result of the large forces applied by the servos. When this edge-loading occurs on the homogeneous bushings, the higher contact pressure simply wears away the local contact area and spreads the force more evenly over the remaining bushing area without degrading performance or creating binding or sticking of the gates.
Bushing & Wear Pad Locations
Do you have challenges with your bearings, shaft seals, or water filtration systems and need a creative, cost-effective solution? Allow Millstream Engineering's team of specialists to lead your group to a successful, economical solution. Contact us today.