Hydropower Tech Tips – Toughen Up Your Radial Seals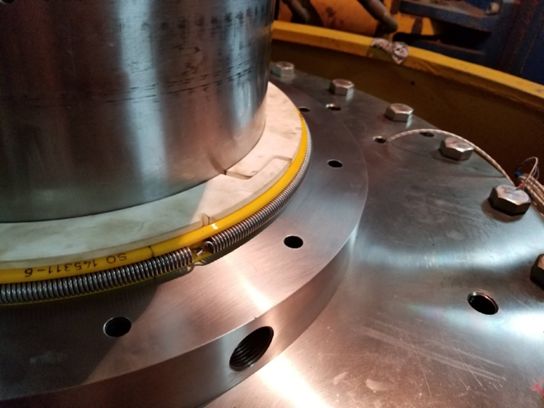 Hydropower Tech Tips – Toughen Up Your Radial Seals
RADIAL SEGMENTED SHAFT SEALS
This type of shaft seal can be commonly found on large hydro-turbines as an alternative to packing boxes, as the spring-energized segments can provide excellent control of leakage without requiring frequent adjustments. In many cases the access to the shaft seal is quite difficult as it is located below the turbine guide bearing assembly, so minimizing shaft seal related stoppages should be an important objective for any power station.
Unfortunately, one of the most common challenges that frustrates plant operations and maintenance staff is the difficulty in handling and installing the brittle carbon-graphite seal faces traditionally used in this type of shaft seal. Anyone who has attempted to carefully re-assemble this type of shaft seal and has watched a carbon segment go flying when the garter spring slips out of place knows this pain. If you don't have sufficient spare segments on hand, the small problem quickly becomes a big one and can extend an outage significantly waiting for replacement parts!
Radial-Type Segmented Shaft Seal
UPGRADE WITH AN ELASTOMER RETROFIT

Luckily there is a proven solution to eliminate this risk of cracked or damaged segments. Most radial shaft seals can be easily retrofitted with a tougher elastomer seal face, using the long wearing Thordon SXL self-lubricating polymer material.
The replacement elastomer seal faces can be machined from stock material to match the shape and profile as the existing seal faces, and in many cases we can also recommend improvements to reduce shaft seal leakage by reducing the total segment count.
Elastomeric Seal Segments
DON'T BELIEVE THORDON SXL IS THAT TOUGH?
See for yourself in this short impact testing video linked here…(<3min).