Millstream in the Field – Paddling the Burnt River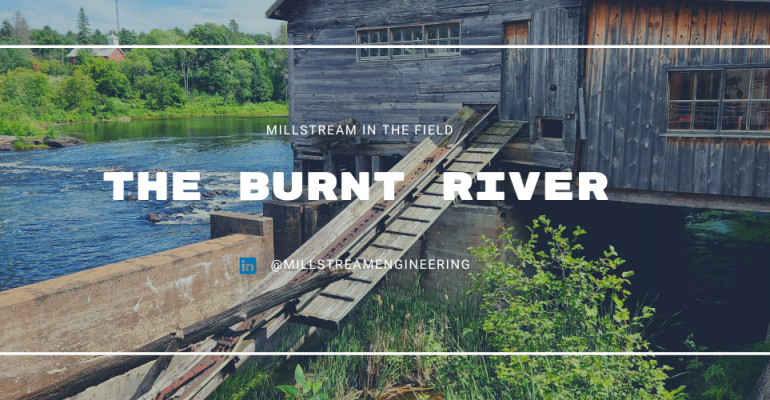 Millstream in the Field – Paddling the Burnt River
It was a beautiful weekend for a paddle, so it seemed like a good excuse to check out some of our historical waterways, and of course see if we could find some waterpower sites…
The Burnt River flows from Miskwabi Lake in the Haliburton area, south into the Kawarthas, and is one of the many waterways that were essential for logging operations in Central Ontario. Timber was harvested from the forests to the north and driven downstream to many small mill operations, usually located where there was enough of a drop in the river to utilize waterpower to drive the mill equipment and produce the lumber needed by the growing towns and cities to the south.  
Exploring these rivers by canoe is one of the best ways to experience them (at least when the bugs and weather are favorable). While paddling the Burnt, we stopped for a scenic lunch at 3 Brothers Falls and enjoyed the fresh smells and sounds of the cascading river water that will be familiar to anyone working in waterpower.    
In between the fast flowing falls and rapids, the Burnt River slowly meanders through the forest and marshes, with plenty of wildlife to be seen. We also had the chance to enjoy a quick swim one of Ontario's most secret beaches – no crowds here…  Thanks to "Joe" for keeping the weeds out! 
For any waterpower enthusiasts (like Greg), a favorite stop along the river is the historical Austin Sawmill in the small town of Kinmount, where the local community has done a great job preserving much of the remaining building and equipment for visitors to enjoy. The first mill was built at this site in 1858, and by 1884 there were 4 sawmills and a grist mill!  The only sawmill remaining at the site today was constructed in 1942, after multiple fires had destroyed the original mills.    
A rare find to see an original mechanical turbine and components on display – no generator here – this turbine would have been driving a series of shafts through belts & pulleys to operate the jack ladder (log conveyor), the mechanized log deck and carriage, as well as the head saw – the heart of the sawmill operation.  The Austin Sawmill sawed its' last log in 1973, after over 100 years of timber processing in Kinmount.     
This turbine is looking a bit rough and might need more than just a minor refurbishment to be able to upgrade it with a Thordon SXL guide bearing and ThorPlas-Blue wicket gate bushings…  Interesting to note the gear-driven shift ring connected to 8x wicket gates spaced between the 8x fixed stay vanes, and pivoting around the OD of the guide bearing housing.    
At the top end of the shaft, a large bevel gear is fitted with hand-cut wooden gear teeth, with each tooth locked in place with wooden wedges so that they could be replaced as needed. The matching bevel gear and main belt drive shaft seem to be sitting in the bushes nearby.   
Not a bad way to spend a Sunday – any day spent on the river is better than a day in the office!